Practice Always Makes Perfect
Before you become a professional guitar player, you must first learn how to actually play the instrument.
Enrolling for a few guitar lessons is not a guarantee that you will become a good guitar player.
For you to be exemplary good at anything in life, you must continually practice and then practice again what you have learned.
This is the true secret to success when it comes to learning anything.
When learning to play the guitar, it is highly advisable that you start simple.
Begin with learning the simple things like fingering the chords and strumming correctly.
You must strive to master the basics and fundamentals of guitar playing before you move on to advanced techniques.
Ignoring or overlooking the basics can lead to future mistakes.
Always be sure that you are learning things correctly so that you do not end up practicing wrong. Remember, it is not easy to undo something that you have already learned.
Your goal should be to practice as your top priority. In order to practice regularly, it is prudent that you come up with a timetable.
A practice timetable can help you to stay on track for when and how often you are going to practice on the guitar.
You can even go further by deciding exactly what you want to achieve in each practice session.
For instance, if you need to perfect your rhythm playing then dedicating a couple of sessions for this should be a goal.
Following this routine allows you to easily monitor your progress throughout the course of your learning.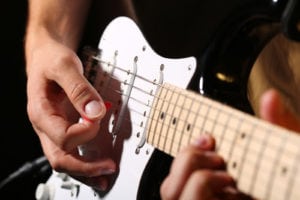 In order to practice effectively, you must also be able to properly plan your practice sessions.
Planning involves first finding a good spot where you will be practicing. This spot should not expose you to any distractions so that you can concentrate one hundred percent on your guitar playing.
The next step is to ensure that you have everything you need to make your practice sessions go as smoothly as possible. Some of the things you will need include a music stand for your tab or sheet music, a comfortable stool or chair, a guitar tuner, a few picks, paper and pencil, and lastly, good lighting.
Last but not least, it important that you divide individual practice sessions into segments where you can, for instance, practice strumming for sometime then practice chord changing for the remaining time.
It is important that you exercise some restraint when it comes to the hours you put into practicing your skills on the guitar. Putting in a lot of hours is not a good thing and it can sometimes lead to injuries and serious conditions such as carpal tunnel syndrome. The best thing to do is to start slow, build up your pace gradually and stick with practicing as time goes by.